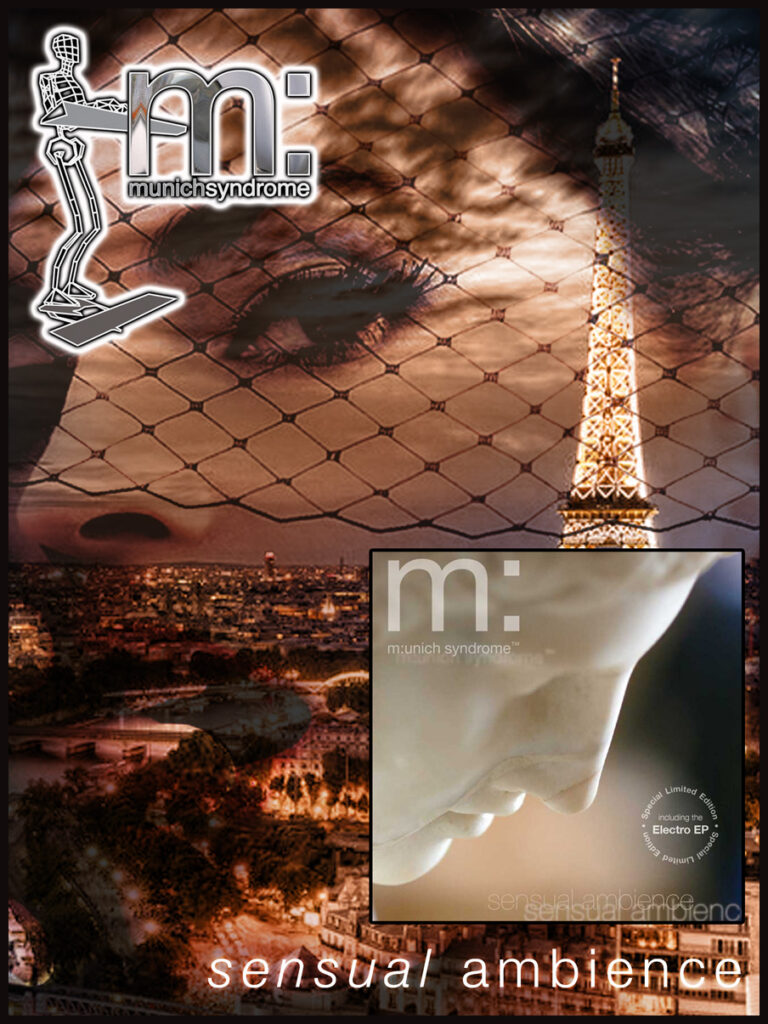 Sensual Ambience is available from:
Sensual Ambience available now from CD Baby
Sensual Ambience: a side journey and first step
Munich Syndrome began in the post-punk, new wave explosion in the early 80's. The first experiments in sound were stark electronics. These experiments started to morph into electronic pop songs. Electro pop. The first efforts were all played and recorded in real-time on a Tascam Porta-Studio. More synths were added and experiments in first generation sequencing took place. The first iteration of Syndrome sounds expanded to a Tascam 8-Track and more songs emerged.
Latency in the (then) available sequencers and and the (lack of) quality with the sound modules led to the project being put on hold.
Fast forward to the early 2000's and the next generation of DAW's (Digital Audio Workstation) led to the reactivation of Munich Syndrome. Picking up where things left off, the songs were more electronic and shared musical DNA with the (then) vibrant ElectroClash scene. As more songs were completed, it seemed like a proper album was getting ready to emerge.

A trip to France and the chance to add soundtracks to four short movies led to the Sensual Ambience album. The visuals and pacing of the movies suggested slower tempos and a more downtempo – chill approach. An exercise and excursion into lush downtempo electronica featuring dreamy keyboard washes, sublime bass-lines, and sensual sax mixed with ambient atmospherics and melodic understated trip-hop infused beats.
Fragment (of a dream) (quiet), is a silky, dreamy, downtempo opener:
Quiet Atmosphere follows. A meditative piano piece, that was licensed for a L'Oreal Pureology ad campaign.
Cathedral Interlude was one of the first tracks utilized as a soundtrack for a series of short films.
Lost In You, a bit of a hybrid between jazz-inflected piano but closing out with a hint of vocoder and analog synth lead… slinky and seductive.
To Whom It May Concern was actually one of the earliest songs written, but the opportunity came to recast it in a more downtempo jazz style came with some of the soundtrack work.
A Night In Paris, was written during a two-week stay in the city of light. Utilizing a plaintive sax, it became a soundtrack piece as well.
Endless Possibilities came out in the studio after undergoing some radical revisions, including some tasty guitar, and was also utilized as a soundtrack piece.
Sensual Ambience (Paris Movie) was the piece that set the tone for the album. The original was over 25-minutes long, but was remixed and edited down to the 18-minute version released on the album.
Closing the album proper is Fragment (of a dream) (electric). A slight remix, this time including seductive and slinky electric guitar.
What followed was the Electro EP. Four songs that set the template of what was to follow with Electro Pop in 2008.
First up, is Regret. A transitory piece that (somewhat) bridges Sensual Ambience with the Electro EP. A bit more dynamic than the previous 9 tracks.
Next up: Murderous (NIMH Mix) (Noises In My Head). A (very) dark techno track. Utilizing an 8-bit video game sound on the intro, a dense and dark soundscape follows.
Come Out and Play (Just for a Day) is a lively techno-pop song that brings the vocoder into fuller use. This was one of our forays into animation as well.
Closing the album and EP is Modern Age (2006 Mix). A song that came together shortly after the dot-com bust, it had gone through several revisions. Described as dark and deranged, this was a new vista of sound for Munich Syndrome. Funky as hell, with a BLISTERING guitar solo to bring it to a fiery end.
The nine track album, "Sensual Ambience" includes the full 18 minute edit of the title track, Sensual Ambience (Paris Movie), and clocks in at over fifty-five minutes of atmospheric and chill electronica.
"Down-tempo beats and seductive dub-like bass lines underscore languid keyboard washes, jazz inflected pianos, sax and atmospheric electronica. Chill-out moods, cinematic soundscapes and warm melodies make up the essence of 'Sensual Ambience'. Inventive arrangements and unique combinations of sounds create a complex but accessible journey in sound."
The Electro EP
What had been the start of the "first" Munich Syndrome release was included as the Bonus Electro EP. Regret opens the EP and straddles the ground somewhere between the previous downtempo tracks and the coming electronic ones. Building to a climatic fury, the song then heads into the 80's influenced Murderous (NIMH – Noises In My Head – Mix), with its arcade arpeggios leading its way into a darker industrial-tinged excursion. Come Out and Play (Just for a Day) is a straightforward techno pop dance track, and is the first released track to feature the vocoder. The last song that closes the EP and album is Modern Age (2006 Mix). The music had existed, but it was the dot.com downturn and subsequent upheavals that inspired the (dark) lyrical theme. One online comment said "this is the perfect song to crank up to 11 and drive straight into a telephone pole." (we took this as a thumbs up!)
Sensual Ambience is mastered in HDCD® by Jeffrey Norman at Mockingbird Mastering, Inc., for enhanced audio fidelity. HDCD® encoded discs will play on all CD Players.
Sensual Ambience is available from:
Sensual Ambience available now from CD Baby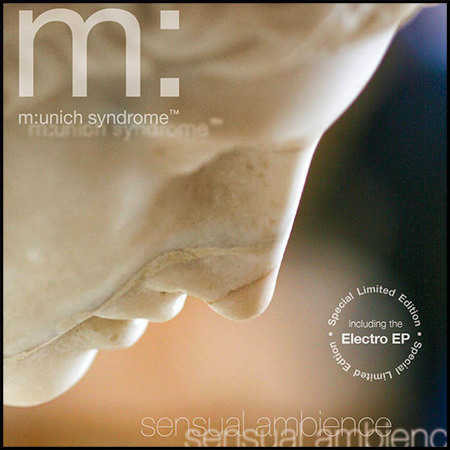 Reviews:
Whatever you might think of David Roundsley's music, you can't say that the titles are in any way misleading. Like the Electro Pop album (which the music here predates by up to 6 years), the potential listener is given a very clear indication of what they'll find here, namely slow, mellow, dreamy &, at times, quite romantic electronic music that, in places, resembles the sensuousness of Enigma but fortuntely avoids the cliched monks chants in favour of a smooth melodic approach that is much more appealing &, in the case of the excellent piano work that graces 'Quiet Atmosphere' & "Cathedral Interlude' (the titles, for the most part, also act as a description of the music!), shows Roundsley's musicianship to be of a very high standard.
The sax voices that added a touch of class to Electro Pop again prove their worth by adding an additionally sensual edge to several tracks, most notably the instrumental 'To Whom It May Concern' & 'A Night In Paris' which is alive with Gallic flair while this style is taking to its logical conclusion during the 18-minute title track where the extended duration makes the most of the richly-textured melodics on a piece which expertly unfolds at just the right pace, creating the perfect soundtrack to a romantic evening as nothing is rushed or out of place, it is mood music of the first order that one can really get lost in.
After this the addition of the 'Electro' EP brings Roundsley's more up-tempo leanings to the fore with 'Regret' showing the style that would later become his forte & while none of the remixes (of tracks that would later appear on Electro Pop) add anything startlingly new, the release as a whole gives a good demonstration of the artist's versatility & considerable musical skills.
Reviewed by: Carl Jenkinson
www.hard-wired.org