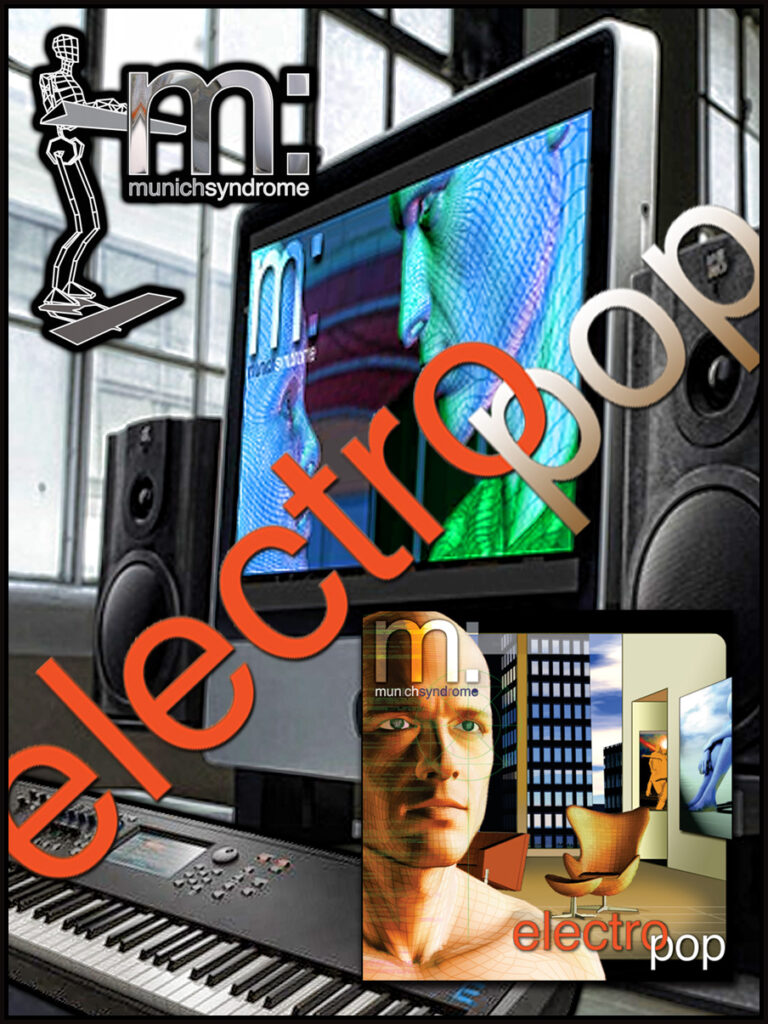 Electro pop is available from:
Electro Pop available now from CD Baby
From the Electro EP to ELECTRO POP!
Using the songs started from the Electro EP as a jumping off point, Electro Pop builds upon those foundations, adding vocals to the instrumental "Murderous (NIMH Mix)" and extending "Come Out and Play" and remixing "Modern Age" to add some industrial strength percussion.
The opening track, Manifesto establishes the mood and tone for the album, also staking out the space the vocoder will inhabit moving forward.
The next song, Dance (Ah Eee Ya Ya Ya Ya) has been one of the most played and downloaded tracks in Munich Syndrome's history. This was also our first effort with animation and video.
Next up is Love & Dancing (7″ Mix). A love letter to the 80's, lyrically constructed of bands and songs from that era.
Electro Bop (often mistaken as the title track) was a funk based instrumental that made it to the finals in the Unsigned Music Awards in 2006.
Come Out & Play (Peaks & Valleys Mix), is an extended remix of the version that was featured on the Electro Ep.
Space Age Bachelor Pad Music is a spacey instrumental that just seemed space-age bachelor pad-dy and fit in with the album artwork.
Intrigue started as a jam in the studio and just had a "spy-movie" vibe from the beginning. (any suspense movies want to utilize this??)
Modern Age (Machine Mix) is a beefed up mix of the version that first appeared on the Electro EP.
Murderous (Bad Things Vocal Mix) is remixed and a vocal added to the track that first appeared on the Electro EP.
Revenge dates back to the mid-80's. The song has undergone various transformations, and this version brings an industrial tinge to it.
Go Away was one of the earliest tracks written when Syndrome Sounds was reconfigured in the early 2000's. Possibly the song most influenced by the Electro Clash movement it underwent several changes over time. This was also used as an audition platform for several vocalists. Ultimately, the vocals stayed in-house.
Analogue Life (Half Life Vocal Mix) came together as the album was wrapping up. A further commentary on life in the modern age.
Between Nothingness and Eternity has been one of our most Shazam'd songs and has been licensed for a wide variety of uses.
Love & Dancing (Even More Love Extended Mix) was our first attempt at an "old-school" 80's style extended mix. One of the things we loved most about the 80's were taking an amazing song and expanding it. This was before the days of remixing, when often the remixed version is almost unrecognizable from the original tune. (We'd love to see more extended mixes make a comeback).
14 tracks of pure electro synth pop. Analog synthesizers combined with classic vocoders, tightly sequenced bass lines and industrial-strength beats adds up to a rich and innovative electronic soundscape.
From the upbeat abandon of the dance floor on "Dance (Ah Eee Ya Ya Ya Ya)", "Love & Dancing" and "Come Out and Play (Peaks & Valleys Mix)" to the darker industrial tinged "Modern Age (Machine Mix)", "Revenge", and "Murderous (Bad Things Vocal Mix)" on through to the hard electro of "Go Away", Munich Syndrome delivers a diverse but cohesive album of pure electronic pop.
Electro Pop embraces a harder sound overall, incorporating elements of IDM (Intelligent Dance Music), electro, dance, techno, house, and EDM (Electric Dance Music). The album opens with the Kraftwerk-esque "Manifesto", and proceeds on to the dance floor with "Dance (Ahh Eee Ya Ya Ya Ya)", "Love & Dancing (the 7″ Mix)", "Electro Bop" and "Come Out and Play (the Peaks & Valleys Mix)." Two instrumentals, "Space Age Bachelor Pad Music" and "Intrigue" shift the mood until the industrial-tinged "Modern Age (Machine Mix)" sets the stage for the darker and more agressive "Murderous (Bad Things Vocal Mix)" and "Revenge." The hard dance pop of "Go Away" follows the analog synth-heavy "Analogue Life (Half Life Vocal Mix)." The album closes on the atmospheric, downtempo trip-hop of "Between Nothingness & Eternity", followed by the euro dance extended remix: "Love & Dancing (Even More Love Extended Mix)."
Electro Pop is mastered in HDCD® by Jeffrey Norman at Mockingbird Mastering, Inc., for enhanced audio fidelity. HDCD® encoded discs will play on all CD Players.
Electro pop is available from:
Electro Pop available now from CD Baby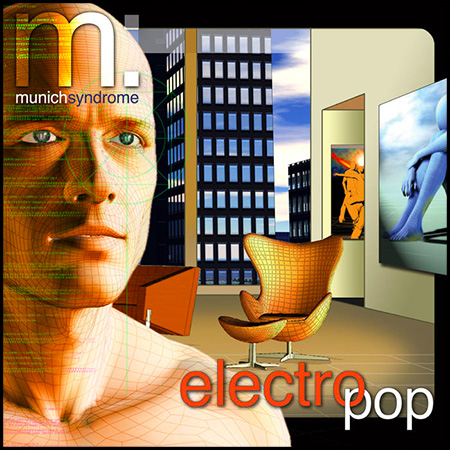 Reviews:
The name might lead you to think that this is yet another German artist but, in fact, Munich Syndrome is the solo project of American musician David B. Roundsley.
MS was born in the 80s & it is clear that this is where Roundsley's heart still belongs, his music being heavily influenced by the European synthpop/europop heroes such as Giorgio Moroder (the title makes this a prime example of an album that does exactly what it says on the cover!) &, on a more obscure note, Koto & Lazerdance with a consistently strong melodic feel that pays dividends throughout, starting with the opening 'Manifesto' which immediately impresses with its mix of vocodered voice & rhythms that resemble Kraftwerk circa Computer World (& thus the hiphop styles that that album inspired) & catchy melodies that just scream 'THIS IS REAL SYNTHPOP', something which can only ever be a cause for celebration.
After this fine start the quality is maintained as a pleasing combination of voice effects & soaring synthleads make 'Dance (Ah Eeh Ya Ya Ya') another instantly exciting piece while the dreamy saxophone voice that adds an additional funky edge to 'Revenge' as well as both versions of 'Love & Dancing' (the extended version of which could well gain widespread club appeal if it were promoted in the right circles) & 'Electro Bop' which boasts some rather, er, boppy rhythms but is otherwise quite a laidback piece, testifies that Roundsley is not afraid to look outside the normal synthpop influences for inspiration which is all to the good, of course.
Like the aforementioned bands, this isn't an album big on variety although the combination of appealingly gritty guitar sounds & emotive synth riffs make 'Come Out & Play (Peaks & Valleys Mix)' another worthwhile number while the almost freeform-sounding 'Space Age Bachelor Pad Music' sounds appropriately laidback & loungey. With 14 tracks on offer & a running time of well over 70 minutes as well as some excellent computer artwork, this is an all-round excellent package, making Munich Syndrome a musical infection well worth catching.
Reviewed by: Carl Jenkinson
www.hard-wired.org
Krafwerk-ian electro with Daft Punk deftness
Munich Syndrome is a Kraftwerk fan's dream come true. Perfect for either the dancefloor or the robot assembly line, synthesized vocoder vocals dominate this CD, with modern electro touches that recall Daft Punk, MSTRKRFT and Justice at their best. Turns out I enjoy this CD better than those 3 bands combined, which is no small compliment! Anxious to hear more from Munich Syndrome.
Reviewed by: Tony Gryner
David Roundsley Makes Electronica for the Masses
Robert Lawrence 30 Jun 2008
GaySonoma.com
MUNICH SYNDROME – electro pop – Syndrome Sounds Music
Back in the early 70's two recordings were key in changing the face of popular music, Son of My Father by Giorgio (1972) and Autobahn by Kraftwerk (1974). These were the pioneers of Electronic Music in the pop scene. Giorgio went off to become a major force in the Disco-era with Donna Summer and Kraftwerk stayed true to their form and became the forefathers of Electronica Music. At the end of the 70's Yellow Magic Orchestra and Telex emerged and laid the ground for every synth artist that followed in the 80's new wave dance format. The most successful in this computerized electronic sound, in the pop market, were the Pet Shop Boys.
Munich Syndrome is the one-man band, David Roundsley. Munich Syndrome takes the template forged in the 70's and incorporates it into today's technology. I ran across David and Munich Syndrome on SoundClick (a nifty website for up and coming independent artists). I found his sounds to be combination of all the artists I've mention while having a voice of his own. He had been searching for quite a while, looking for a vocalist for his compositions and found the perfect fit in his own, through vocoded harmonies. "electro pop," his second release, seems more like a debut as it incorporates early tracks with new tracks and displays Munich Syndrome as it stands today. Along with what I refer to as "Space Age" symphonies, clubbers will be drawn to the free-loving bop of "Dance (Ah Eee Ya Ya Ya Ya)," the complicated and rich "Love and Dancing," and the hard-floor stomp of "Go Away." Since I really enjoyed what I heard I wanted to share his sounds with our readers. There wasn't really a whole lot of info about David on the site, so I contacted him, to give him the opportunity to introduce himself to you.
Gaysonoma:
David how did you decide to become a recording artist, let alone an "Electronica" recording artist?
David Roundsley:
My mother and father always had music on in the house, but it was an older style that didn't really speak to me. We never had the radio on, so I was oblivious to other styles and types of music happening. We had a piano in the house that I took lessons on for a couple of years, but it wasn't very engaging for me at that point in time. One day at middle school, walking across the quad, I heard music I hadn't heard before. It instantly grabbed me. I then began going out and buying as many records and finding out as much about bands and music as I could. (This hasn't changed much over the years)
At this point, music was primarily guitar driven and I didn't see a correlation between the piano at home and the new music I was listening to. At one point I was trying to rally some friends into starting a band. While there was a "yeah, a band would be cool" vibe, no one seemed interested in going beyond the "wouldn't it be nice" talking phase. One of the sticking points was no one played bass, so I volunteered and went out and bought one and took some lessons. Two things became apparent very quickly: even with a bassist, no one was willing to move beyond the talking phase of starting something, and more importantly, I found the bass to be a very boring instrument to practice alone. I really had no aptitude for the instrument.
Fast forward a few years: I found myself listening to the new electronic music coming out of England and Europe. Two bands that really moved me beyond just listening were "the Human League" (Things That Dreams Are Made Of) and "Soft Cell" (Memorabilia, from Non-Stop Ecstatic Dancing). I was impressed with the full sound only a couple of people were creating vs. being dependent on having a band or group.
One day out of curiosity I went down to a local music store and they had a drum machine and synthesizer that weren't out of the question financially. More as a lark than anything, I bought them and started playing around with them. Fairly quickly I felt limitations with playing a single keyboard along to a drum machine, and soon purchased a second keyboard, so I could play a bass part with one, and a lead with the other.
The next evolutionary step was a Tascam 4-track recorder that allowed me to play a base track on one and then overdub on three other tracks. While this didn't lead to the best audio fidelity, that is when I started writing and recording in earnest. After a couple of years and eventually upgrading to an 8-track, I felt my playing wasn't really where it should be and retired the equipment. Music at that point had swung back to more of a "rock" format, and was a bit less interesting to me. At this point I had re-channeled my energies into graphic and web design (what I had studied in college).
After doing web work and graphic design for a while electronica seemed to be cropping up everywhere and then the electroclash movement evolved out of that. It sounded familiar and new at the same time and I felt myself getting inspired again. At one of the jobs I was on everyone was sitting around talking about their interests and hobbies and I mentioned the music I had done and one person said "why aren't you pursuing and putting your music out there?" I didn't really have an answer for that.
My partner was very encouraging and pushed me into exploring the various working environments available at the time. I started working with ProTools, but things weren't clicking for me. Feeling the need for a deeper understanding of the program I found a musician who tutored people. He mentioned that for the type of music I'm doing, Logic would be a better choice. Skeptical at first and after a readjustment curve, that's when things fell into place.
Gaysonoma:
How do you feel your sound compares with pioneers like Giorgio Moroder, Kraftwerk, Ultravox, and Telex, in this Genre (personally I feel your sound most captures the feeling of Giorgio's early works)?
David Roundsley:
I haven't really thought about what I'm doing in comparison to these pioneering groups. The majority of Giorgio Moroder's work that I really listened to was his work with Sparks and Phil Oakey vs. what he did with Donna Summer. I've found the work of all these artists to be groundbreaking and impeccable. Generally when writing and recording, I'm focused on the song, trying out various synths and patches to see what works best within the framework of the song, not really thinking about who I may or may not sound like.
Gaysonoma:
How did you come about the name Munich Syndrome?
David Roundsley:
The name "Munich Syndrome" came to me from the movie "Android." In the movie there is a loveable android whose biggest passion is listening to music broadcasts from earth at night when the day is done.
One day he overhears his master talking about dismantling him and using his parts for a new and improved android. Sadly he goes to listen to his last broadcast from earth and the show is interrupted with the news bulletin that the androids in the city of Munich were tired of being machines and wanted to feel and be human. They rose up against and killed their human masters. They were exhibiting "Munich Syndrome."
This resonated with me on a lot of levels. When it came to finding a name for the project this just felt like the right name.
Gaysonoma:
How did you develop your logo or symbol, "m:?" To be honest when I first saw it I thought of the band M (Robin Scott). Do you have any concerns of being confused with "Pop Muzik," or do you think of this as "an extension of?"
David Roundsley:
The logo was developed and evolved over time. While I was reactivating Munich Syndrome I was also taking some graphics courses. We were commissioned to do a book reflecting a wide variety of graphic styles. Each person was free to pick the subject matter that they would be stylizing. My subject matter (not surprisingly) was music, machines and man. As there were a lot of "M's," what evolved was a large lower-case "m" followed by a colon, then the three words music, machine, man.
Another reason for developing the single letter was the name itself is fairly long, and in some graphics situations (thumbnail album covers come to mind) having a graphic element that will still be visible when shrunk that much was a concern.
So far I've not heard of any confusion with "M", as "M" was always an upper-case "M" and stylized like neon, while ours is lower-case Helvetica and always followed by a colon.
Gaysonoma:
Many people feel that Electronica music is the music of the future. Many futuristic film works have often portrayed this type of music as the norm for that setting. With all the Hi-Tech advancements presently and on the drawing board, do you feel that is this is next evolution of mainstream music?
David Roundsley:
I'm not sure this will happen for the mainstream. There is still a very primal connection that audiences have with vocalists and watching someone play an instrument live. The success of rap and hip-hop underscores this in terms of people connecting with vocals.
There is still a bit of a disconnect watching someone stand in front of a laptop or a bank of synths singing through a vocoder (though much less than in the days when the Pet Shop Boys first toured America and were told by their record company they HAD to have a drummer, and possibly a guitarist).
I think there will be further evolution that will result in more of a hybrid, much in the way genres like country and pop merged with an artist like Shania Twain. A lot of the production techniques that were in the realm of "new wave" (drum machines, synthesizers, etc.) in the early 80's, can now be found in almost every mainstream song (be it hip-hop, rap, country or metal). What sounded alien and foreign 30 years ago has become commonplace.
Overall I think what's going to win people over is what always won people over: a great song. If a truly great and memorable song catches the cultural zeitgeist and it happens to be more "futuristic" in sound, then its possible (even probable) that it will lead to a trend towards that style. Sadly, we live in a word where people tend to hedge their bets and follow more than lead when it comes to music and movies.
Gaysonoma:
Your first project, "Sensual Ambience," seemed more in the direction of New Age (at least in the first half). "electro pop" seems to take a direct stab at the club scene, is this your intent? Do you plan to explore more of the Dance scene in the future?
David Roundsley:
In terms of what I'm trying to do and what I feel Munich Syndrome is, "electro pop" is probably more like the real "first" album. "Sensual Ambience" was me learning a new studio environment, and those songs were the first experiments to escape from the lab. The cornerstones of those nine songs started out as soundtracks for a DVD of a trip to France in 2004. "Sensual Ambience" was influenced by down tempo and trip hop more than new age.
The last 4 tracks (the "Electro EP") was the direction I intended Munich Syndrome to go from the start, stylistically these songs don't mesh with the previous nine ("Sensual Ambience"). I had been putting songs up online as I finished and developed them, and was getting requests for an album, but I discovered I didn't know "which album" people were asking for (the down tempo material or the electronic pieces). Also, I wasn't sure at that point if a second album would follow so it was my attempt to maximize that release.
Gaysonoma:
At some point most artists toy with other artists work, or take a chance at reinventing a classic cut in their own style. Do you plan to embark on this in the future or are you true to your own compositions?
David Roundsley:
I wouldn't rule this out, but at this point in time, its not on the agenda. I seem to recall an interview with Ric Ocasek (the Cars) where he addressed "covers", and while I can't recall the exact quote, it went along the lines of "If you're an artist and you've got something to say, you should be putting your own original pieces out" or something to that effect.
If a certain song presented itself that I could reinvent and reinterpret in a unique way, I'd give it a shot. Soft Cell certainly made "Tainted Love" their own.
Gaysonoma:
I feel that you could possibly work well with other artists. Any thoughts on composing or producing for other acts?
David Roundsley:
I'm not adverse to this, but being self-taught and working in my own way, I'd probably be very self-conscious composing with or producing other people. I've been approached a couple of times to "collaborate" with people, but that came down to them having a very set idea of what they're doing and only having me go in a clean it up a bit. I haven't really encountered anyone I have really "clicked with" where collaboration seems like it would work and be enjoyable.
I wasted a lot of time looking for a musical partner in crime. I've always had a soft spot for electro pop duos like Neil Tennant and Chris Lowe (Pet Shop Boys), Dave Ball and Marc Almond (Soft Cell), and Charly Brown and Myke Reily (Voice Farm), Vince Clarke and Allison Moyet (Yazoo), but it never happened for me.
But never say never.
Gaysonoma:
I have to "tip my hat" to you on the lyrics to "Love & Dancing." Its an enjoyable homage to Kraftwerk, Martha & the Muffins, New Order, Soft Cell, Human League, Depeche Mode, Re-Flex, B52's, Flock of Seagulls, Alphaville, Men Without Hats, Marianne Faithful, and Pet Shop Boys. Did I miss anyone? How did you come up with that idea?
David Roundsley:
Wow! That's pretty good. You missed Grace Jones / Flash and the Pan (Walking in the Rain), Propaganda (P:Machinery), The Pretenders (Mystery Achievement) and the Cure (Jumping Someone Else's Train).
The original mix didn't have the sax lead, but rather an analog synth lead, and it wasn't quite jelling for me. I didn't have any lyrics at this point and was playing around and dropped the sax lead in. The phrase "We took the Autobahn, to Echo Beach" just popped into my head. I was then going to write a love letter to all the clubs I used to frequent in San Francisco, but then I made the decision to make the lyrics entirely out of bands, albums and songs from a period of music I have a particular affection for.
This is possibly the largest track I've ever done in terms of total tracks and the longest I've worked on a single song. This was also the first time I worked on an extended mix concurrently with the single mix.
Gaysonoma:
On the track "Intrigue" there's a presence of James Bond-ish groove felt, however, I felt the mood of the cut ran a little slow, though I did like how it slowed up even more at the end. At a faster pace, that instrumental would have been wild! Your thoughts?
David Roundsley:
Interesting· I hadn't thought about speeding it up, but I'll have to play with that, now you've planted the seed. The James Bond flourish came after the song was almost done and someone had commented that had a "spy flick vibe."
Gaysonoma:
Do you have, in the works, any additional club mixes or house mixes of the "electro pop" cuts?
David Roundsley:
I'm working on an extended mix for "Dance." That song has garnered the most attention so far. First up is a radio edit and a video (fingers crossed), then I'm looking at a remix. I'm not sure about anything else on the album at this point. An ambient mix of Revenge was started a while back, but I'm not sure if I'll revisit that or not.
Gaysonoma:
Being an Electronic Artist one is sort of hidden from view of the public, most Artists in this genre are not recognized by your average Joe Shopper. As an "Out" artist, do you feel "safe" in the anonymity associated with this? Do you have any reservations on the fact that it may cause some roadblocks or limit your audience?
David Roundsley:
At this point, while a bit cliché ridden, I'd rather people focus on the music and not the artist. What I'm doing is more studio artistry, than a single talent like singing, or playing a dazzling solo, and as such, it feels more comfortable for me to be out of view.
When I first got into a lot of electronic music it was often a white label 12″ single, no logo, no image, just the name of the artist and song (if that), or it was listening to college radio, where you were lucky to get the name of the band. Even with releases that have album art, a lot of the time the artist is no where to be seen and Its easier to create an image in my mind that complements the music.
I do think Its also a handicap when it comes to getting word out on new music (actually any music, or project) as we're a very "celebrity driven" society, and having a "face" to match to the music seems to make it more marketable.
Gaysonoma:
Do you feel the world will ever be ready for an "Out" Mainstream Artist from the get-go? (LOL, I know your thinking, but there are so many out there now and people just can't see the glitter in the body lotion) Many members of young America, I've spoken to, indicate that they have no problem with it. If fact these days they find it kind of fashionable. Your thoughts?
David Roundsley:
Absolutely! When someone can deliver the goods, I think they'll be accepted unquestionably. These days mainstream seems to be defined by someone that can sing, dance, looks good and can deliver a performance. Oh, and don't forget that elusive "star quality." I think Its like any job really, if you have the qualifications and can do it, people will respond.
Gaysonoma:
So David, what is next on the calendar for Munich Syndrome?
David Roundsley:
First up is exploring the video medium. For better or worse, we live in a visual world, and people often need to see something to accompany the song. I would like to do a video for "Dance" and "Love & Dancing", but as I'm doing this myself, another learning curve is involved.
I've already got several songs written for the next album, so I should start pre-production on that in the not-too-distant-future!
Gaysonoma.com thanks David Roundsley for his time and openness. You can visit Munich Machine's website at www.munichsyndrome.com and you can find the "electro pop" disc at CD Baby.