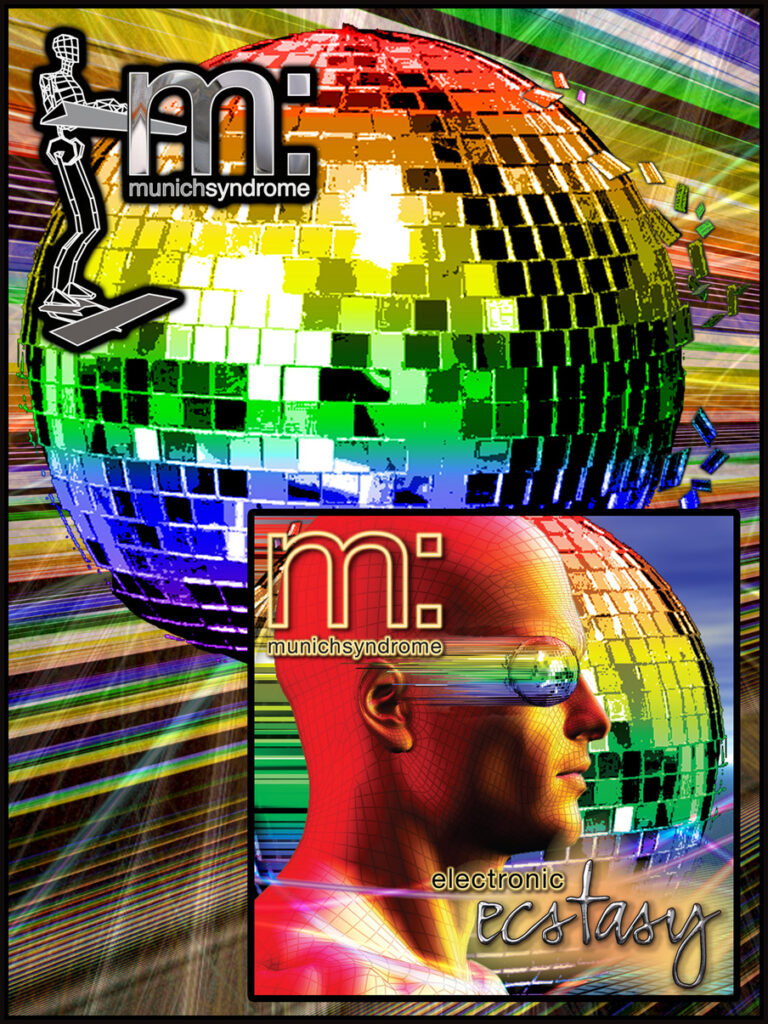 Electronic Ecstasy is available from:
Electronic Ecstasy available now from CD Baby
From Electro Pop to Electronic Ecstasy
Some of the songs for Electronic Ecstasy were written during the Electro Pop sessions. Picking up where "Electro Pop" left off, "Electronic Ecstasy" kicks off with the title track hinting at what a collaboration between Giorgio Moroder and Kraftwerk might have yielded. A relentlessly tight sequenced bassline pushes the song forward about nights out clubbing around the world.
Always (Alone) was another song dating from earlier days in Munich Syndrome. It had a kind of Pet Shop Boys feel.
Anywhere (But Here) was also an early number in Munich Syndrome's history. This is a short clip from the mid-80's.
Dream Sequence #3 is a trippy instrumental that recalls some of William Orbit's work with Torch Song.
Celebrate is an all-out dance track about… celebrating.
2 Whom is the first complete song done in the earliest days of Munich Syndrome. It has undergone many changes over time. This is a very synth-pop version of it. This is also our first effort at syncing the animation.
Endings (Rock RMX) began life as a very bare-boned synth-pop number, but trying some different arrangemetns it ended up with some guitar and a rock feel.
Metro is an instrumental that was almost lost when the previous desktop imploded and MANY sessions and files were completely lost. It turned out there was a reference master that survived that ruin.
Dreams (or Memories?) is also a track writtne much earlier. This version varies quite a bit from the original and ended up with a rather Kraftwerk vibe to it. A more electro version is currently being worked on.
Fear. Panic. Dread. emerged from an experimental session with our first version of ProTools and a Virus and DX7 synth. This was also used as the soundtrack for an indie film.
Watching You was written about survelliance that most people can do themselves from the comfort of their own laptop or phone. And also a cautionary tale that not everything goes unnoticed or unobserved. The video was done by our very talented and creative friends Stage Parades!
Random was giddy instrumental and felt like a good palette cleanser after the darkness of Fear and Watching You.
Electronic Ecstasy (Extended Ecstasy Mix) was our next effort at extending a track, while keeping the essence of the original, we opened it up and expanded up on the percussion.
Always (Alone) (Full Orchestral Mix) began life as two separate songs, but in the studio the key and tempo suggested merging the two giving a slower but more expansive opening to the song.
Anywhere (But Here) (Here and Now Mix) opens the arrangements of the original and includes a sax solo at the end, vs. a more traditional fade-out.
Signals closes out the album. Dreamier, atmospheric and more downtempo and experimental it comes to a quiet conclusion.
Electronic Ecstasy utilizes and pushes the vocoder further up front into the mix. More time was spent refining the mix between actual singing and the electronic processing of the classic vocoder. Adding this element to classic electronic pop songs of unrequited love, loss and what comes next. Analog synthesizers are front and center, along with classic beat boxes, sequencers and a full arsenal of state-of-the-art production. Unforgettable melodies, combined with vocoded harmonies placed over the insistent throb of propulsive club beats and bass drives Electronic Ecstasy to new heights.
Songs range from the classic synthpop of "2 Whom" and "Always (Alone)" to the "T-Rex meets the Cars" new-wave pop-rock of "Endings (Rock RMX)". "Anywhere (But Here)" blends the unlikely genres of jazz saxophone with New Order-esque drums and a hard electro bassline. The cerebral (but dance-floor ready) "Dream Sequence #3" flows into the dance-pop of "Celebrate".
The album takes a darker turn after the melodic instrumental "Metro" with the Kraftwerk-esque "Dreams (or Memories?)" and then descends into the claustrophobic minimalism of "Fear. Panic. Dread." Following is "Watching You", a high tech cautionary tale of surveillance in an overly connected world, set to a heavy dance beat and screaming analog synth leads. "Random" follows with an effervescent electronic shuffle.
The album closes with four bonus tracks:
"Electronic Ecstasy (Extended Ecstasy Mix)", "Always (Alone) (Full Orchestral Mix)", "Anywhere (But Here) (Here and Now Mix)" and the atmospheric and ambient-tinged "Signals".
Electronic Ecstasy is mastered in HDCD® by Jeffrey Norman at Mockingbird Mastering, Inc., for enhanced audio fidelity. HDCD® encoded discs will play on all CD Players.
Electronic Ecstasy is available from:
Electronic Ecstasy available now from CD Baby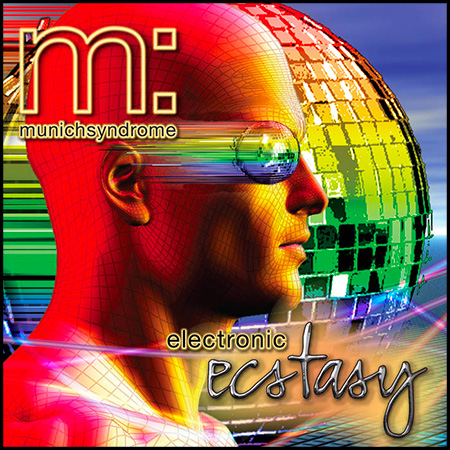 Reviews
Didier Becu 07 July 2010
I can't think of that many bands who are sounding very close to Kraftwerk without being a failure. I guess Komputer and Dust Of Basement might be an exception, and from now on, you can add Munich Syndrome to that list as well.
Munich Syndrome is very clear about it that Kraftwerk is the inspiration (on the cover you can notice those typical robots behind a synthesizer that were used by some lads from Dusseldorf) and yet, Munich Syndrome is a musical project with a very own face. This release comes from an American (David B. Roundsley) and it sounds from the first to the last second very European and that's cuz this artist has been inspired from everything that sounds electronic. Be it the more commercial European pop (hello Giorgio Moroder) to the more EBM-oriented beats from Front 242, you hear it somewhere in Munich Syndrome.
Munich Syndrome is certainly not the first band on this planet who had this humble thought but many other projects are sounding dated where its nothing but a copy, but as said before Munich Syndrome resolved this danger into some great songs (or sounds) which makes this album an electronic adventure with both analogue sounds and trancy soundscapes.
Reviewed by: Didier Becu
www.darkentries.be
Electronic Ecstasy
Carl Jenkinson 06 June 2010
Munich Syndrome is US-based musician David B. Roundsley & this is his third release of retro-modern synthpop that resurrects the spirit of the late 70s (with Giorgio Moroder being a key influence, I'd guess) while still sounding totally up-to-date. The colourful cover ensures the album will catch your eye & make you curious as to what lies within & its well worth satisfying that curiosity here with its 16 tracks (13 originals, 3 mixes) & a running time of well over 70 minutes ensuring its a good value for money offering.
The aforementioned Moroder influence is immediately felt during the opening seconds of the title track as those sequences kick in, being joined by the vocodered vocals that, well-used staple that they are, still sound so right. And its just as well they do as they pop up throughout, proving their worth equally on the more assertive tracks such as 'Dream Sequence 3' & 'Dreams (Or Memories?) which also features some attention-grabbing lead synths & the decidedly infectious 'Watching You', as they do on the more restrained 'Anywhere (But Here) where some faux sax makes for a seriously loungey vibe & the decidedly wistful '2 Whom' where the combination of obviously synthetic vocals & emotive music is evocative of a machine that's experienced the negative side of human emotions (which I still think is cool!).
The instrumental 'Metro' does push its luck a bit due to the slightly jazzy piano that has a whiff of Shakatak-style wine bar chic to it which is tolerable in this small dose as long as it doesn't become a habit although 'Random' provides a safer instrumental experience that leads into the remixes which add more elements to various tracks whilst retaining the essential feel of the album before 'Signals' closes the album on a more downbeat instrumental note.
Overall, then, this is another fine release from an independent artist that is following very much his own musical path & the fact it is again a self-release from Syndrome Sounds is heartening in that there are still artists who still feel releasing bona fide CDs is still a worthwhile venture & are prepared to put in the hard work to make this happen so if you're looking for a unique synthpop sound that's surely got to be worth supporting, right?
Reviewed by: Carl Jenkinson
www.hard-wired.org
Munich Syndrome Uploads Musical Ecstasy
Robert Lawrence 06 Apr 2010
Accessing prior We The People Data. Last known encounter with entity Munich Syndrome, also known as m:, also known as David Roundsley, listed as year 2008, June 30. Experience found as no threat. Mood friendly, uplifting, informative. Downloading current sound transmission.
Current file cataloged, titled Electronic Ecstasy. Sixteen contents found, including four bonus tracks. Original material found. Recommended highly. Distribute to all active personnel.
Accessing personal file, Robert Lawrence, year 2010, March 25.
I have in my hands the new CD release from Munich Syndrome. I recall my last visit with this artist as very pleasurable and documented the details on the We The People website. Mr. Roundsley gave detailed information to our readers.
The current release shows growth in many areas. Track one, Electronic Ecstasy: the opening track and title cut begins with a NASA type communication and backing sounds that are reminiscent of Donna Summer's "I Feel Love." Though this is common in the Electronica landscape, it is always a welcome sign. There are several breaks, which aid in making the song relevant. The lyrics pertain to going out to the clubs of the world and documenting the feeling. The song closes with a repeat of the NASA type transmission message. I liked this effect and wish it were used throughout the disc with additional verbiage to tie the tracks together.
Track two, Always (Alone): keeps the beat from track one, with variation. There is a sadness to this composition as the lyric seems to explore a life of jumping from partner to partner, comparing encounters to grains of sand.
Track three, Anywhere (But Here): has some Jazz sounds thrown in, which aid in setting the feeling into another direction. A desperate story of longing for someone, who never deserved ones admiration. "A change of plan, random glance, Walking down the street I catch a glance, of you and him moving into another life, try to recall I want to forget, all the memories singed with regret, and finally knowing you never felt the same."
Track four, Dream Sequence #3: instrumental cut, nice bridge to the next song, that steps up the mood.
Track five, Celebrate: this cut reminded me of the Human League. A story of finding "the one" and its celebration.
Accessing personal file, year 2010, March 27…
Track six, 2 Whom: this track reminded me of the Electric Light Orchestra in the 80's. Not their power dance hit singles, but more like their album cuts, which had more depth. I think 2 Whom is an extension of Celebrate, going further into the feeling of finding your true love.
Track seven, Endings: this is my favorite of all. Again the ELO presence is felt in the lyric delivery. This track was a fun experience. First it made me think of Bachman Turner Overdrive's Taking Care of Business, then the synth-sounds, threw in a taste of Gary Numan, and out of nowhere in the background, I got "? and the Mysterians" "96 Tears." I only wish it was twice as long. To be honest I didn't even pay attention to the lyric, I was enjoying the music that much.
Track eight, Metro: instrumental cut, not my thing, background noise, non-threatening.
Track nine, Dreams (or memories?): the topic here I felt was infatuation. The sounds were dark and broody, which were a good lead into the next cut.
Track ten, Fear Panic Dread: Three simple words in this short break. A nice introduction into·
Track eleven, Watching You: Another dark tale and the android influence very evident here. In the automated future who will be watching us? Very possibly it won't be a human. The backing sounds are tailor made for any Sci-Fi thriller.
Accessing personal file, year 2010, April 6.
Track twelve, Random: instrumental cut, closing theme to the project.
Tracks Thirteen-Fifteen (Bonus tracks): remixes of Electronic Ecstasy (nice to have more of this one in its extended version), Always (called the Full Orchestral mix, mostly extended, but a with a slight livelier feeling, Anywhere (titled the Here and Now mix, finds the song expanded and surprisingly flowing better than the original version), and a new cut Signals (instrumental, was really wishing for an extended version of Endings, but again, there's nothing better than leaving the listener wanting more).
Closing data: I found Electronic Ecstasy a fresh adventure into the realm of Munich Syndrome. You can pick up a copy at CD Baby and visit the website at www.munichsyndrome.com for more information along with links to unique merchandising.
End of transmission log, Robert Lawrence, back to Hibernation pod.
www.gaysonoma.com
Munich Syndrome – Electronic Ecstasy
Reviewed by: Max for theDSide
David Roundsley proviene da San Francisco Bay e con questo terzo album autoprodotto esplora nuovamente ambiti eletttronici di varia natura, esattamente come suggerisce l'istintivo desiderio di sperimentazione insito nell'artista. "Sensual Ambience" del 2006 trattava perlopiù orientamenti downtempo e trip-hop supportanti brani ambient e jazzy precedendo il successivo album "Electro Pop" del 2008 più incline a soluzioni idm, techno, dance ed ebm coniugando il linguaggio binario di "zero" e "uno" a sonorità sempre più perfezionate e variegate. Il nuovo full lenght svela in pratica ciò che sarebbe potuto scaturire dalla combinazione tra il dance-system di Moroder ed il suono razionale dei Kraftwerk contaminando inoltre i risultati con microrganismi Art Of Noise, New Order e frammenti elettronici di matrice 80's. Le tracce, sedici, si strutturano su pulite basi di key e vocoder incominciando il percorso proprio con "Electronic Ecstasy", ibrido tra il concetto Moroder e l'electro germanica al quale succede "Always (Alone)", lineare electropop song dalle romantiche curvature di tastiera che rapiscono istantaneamente. "Anywhere (But Here)" esalta leggere sonorità alla Pet Shop Boys mentre "Dream Sequence #3" scandisce il ritmo con drum machine ben cadenzata su eterei tocchi di key. "Celebrate" gioca con danzabili soluzioni 80's e vocoder concedendo l'ingresso della suggestiva "2 Whom" sempre animata da drumming sequenziato e voce robotizzata che caratterizzano questa fascinosa traccia. Si procede con l'easy listening di "Endings (Rock remix)" ed in seguito con "Metro", pianistica ed elegante. "Dreams (Or Memories)" dirama ulteriormente lo spartito electronic-minded disposto fin'ora procedendo con "Fear.Panic.Dread." oscurata da un minimale flusso di key. Synth in primo piano anche per "Watching You" che riattiva le inflessioni post-Kraftwerk di cui l'album è pregno, raggiungendo le disimpegnate procedure tastieristiche di "Random".
Appaiono nuovamente i chiari riferimen ti moroderiani nella prima delle quattro bonus tracks, "Electronic Ecstasy (Extended Ecstasy Mix)", adattata ai dancefloors più cool, il remake della già ottima "Always (Alone)" quì in versione Full Orchestral Mix, la ricostruzione Here And Now Mix della metropolitana "Anywhere (But Here)" ed infine l'inedita "Signals", pacata esecuzione strumentale di prog e synth. Lavoro non accostabile all'electropop più in auge e riferito ad un ascolto meno specifico e tantomeno di tendenza. Un disco che potrebbe comunque rasserenare i lunghi kilometri percorsi in auto sotto l'imminente, torrido sole estivo. Se l'idea vi stuzzica.. -|-|-» Sperimentale rivisitazione di sonorità retrò senza irrigidimenti o pretenzosità: nulla a che vedere con altri progetti electro fin'ora ascoltati dalla maggior parte del pubblico. Lo stile MS si differenzia per leggerezza e disimpegno, elemento che terrà distanti da esso i cultori dell'electro-noise più oltranzista. Per tutti gli altri, la Sindrome attende di essere sperimentata.
www.theDSide.it