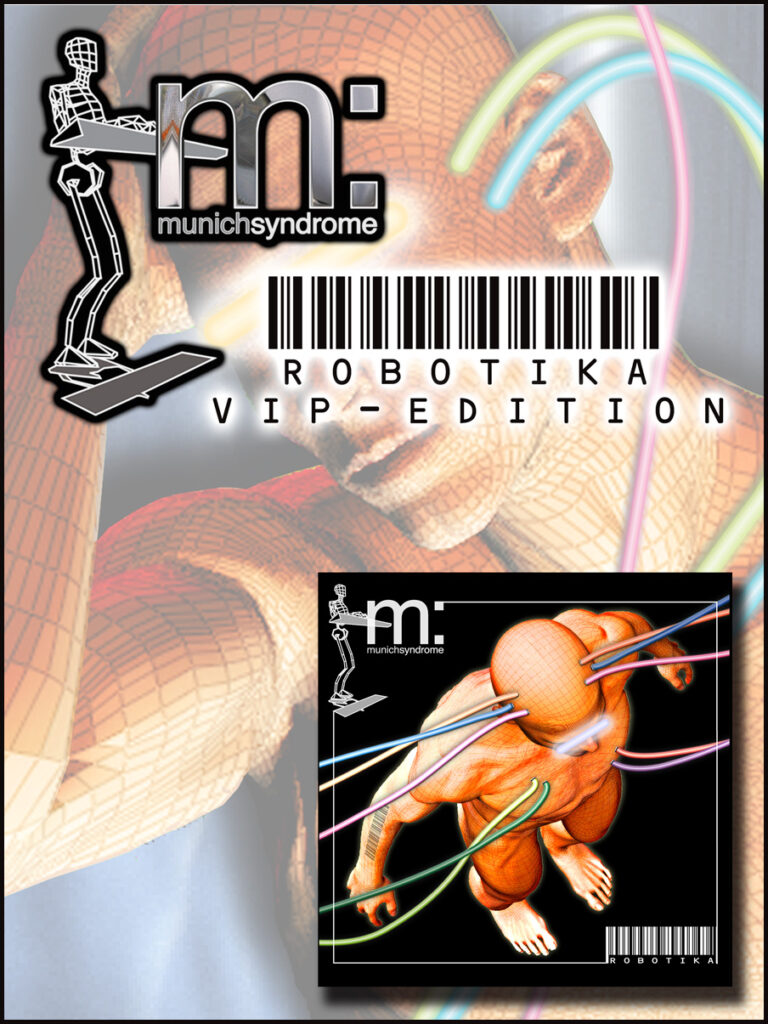 Robotika (VIP Edition) is available from:
Robotika (VIP Edition) available now from CD Baby
Experiencing symptoms of Robotika….
Album Notes
Sounding familiar, but new at the same time Munich Syndrome sounds unlike anything else currently on the radio or in the clubs. Danceable, but not a dance band. Melodies, hooks and choruses, but not really a pop band. Heavy electronics, but not an industrial band. Eschewing current trends, Munich Syndrome looks inward for inspiration, not attempting to match momentary styles or chasing what's in vogue. A one man band that spends too much time alone?
Identity? Who we are? What we are? Where we are? These are the questions Client SS006 ponders as he explores his place in the (virtual?) world. Not a man. Not a machine. Does client SS006 work on the assembly line or was he created on the assembly line? In a world surrounded by and run by computers, Munich Syndrome touches upon electro, synth-pop, EDM, IDM, techno pop with a pinch of ambient and experimental, to take the listener on a journey of realization, acceptance, escape, while redefining a sense of self exploring the condition of Robotika.
Robotika (VIP Edition), Munich Syndrome's fifth album, opens with the Diagnosis and the program begins.
The rhythm of a heavy machine drone is soon joined by a tight digital kick and sequencers for the industrial-tinged electro synth-pop of the title track, Robotika (Technology Seduces). Expanding and opening up with keyboard washes, tightly synced bass and an 8-bit synth lead Robotika ponders the question of existence and our place in this world. Do we see the world through technology? Has technology changed the way we see and perceive the world? "The fusion of mind, and machine. Form and function, never seen, coalescing into Robotika…."
This segues into "The Future" a driving 4/4 pulsating full-on dance track that poses the question of when do we cease being open to new things and start holding onto a past that may (or may not) have existed? "Remember when you were young? The world was going to be yours? Always on the front lines, of the cultural wars. The music and the scene, were fresh and new, how nothing existed, before or after you?" Sometimes the arrogance of youth becomes the arrogance of age…
This is followed by "(I Do) The Robot", a kinetic EDM track about getting "in sync with the beat of the machine" and "dance, dance, dance, dance the night away." Melodic, dance at it's synth-pop finest! Is it dancing for enjoyment or dancing to the beat of another's drum? "Electro pop takes me straight to the top. I never ever want it to stop…"
A darker IDM tinged track, "Industry (Business As Usual Mix) *" shows a 1984-esque corporate-centric world where "conformity, (is) an essential component, always comply. Strict adherence to the rules, never ask why" and the pronouncement of "self awareness has no place, in the machine."
This leads our protagonist into a world of "Assassins (Locked On Target Mix) *." A darker world where no one is trusted and everyone is suspect. Harder, darker and denser with industrial overtones, "Assassins" is a claustrophobic space of fear. Heavy drums, angular synths and minor chords create a more oppressive atmosphere here. "Almost imperceptible, it hangs in the air, the atmosphere shifts under the weight of their stare. Acid smiles, mixed with stolen glances, their moment comes with stolen changes…"
Escape and release, "Medicated" is an ambient word of sedation and quiet. Escape can be found in many forms – drugs, drink, denial… "I want to be, medicated…"
From the haze of "Medicated" we enter "Android Dreams (remix)." Languid bass with dub-like keyboards drift into a hazy dream-state where things aren't what they appear, metaphors are mixed and time is no longer linear. A sax line drifts in, as if from another dimension… "Every night, I surrender, to a world of dreams. Memories, sounds and colors, nothing's what it seems. In a room from another life, a faded affair, I hear the music on a radio, that isn't there…"
In a word of Vinyl, or Cassettes, or even 8-Tracks, you had sides to albums. If that were to exist here, then this would be the flip side.
Alienation, isolation and a lack of understanding of how the world works is where our protagonist finds himself in "Just A Lonely Robot." Feeling as if he were abandoned in an alien world to figure it all out on his own, he attempts to make sense things. "Evenings alone listening to records, looking for some type of clues. Transmissions from another dimension, twenty-third century blues." A funky kinetic, electro-shuffle pondering "An aberration, a solitary blip, I never got the happiness chip. I don't fit in, I shouldn't be here. Sometimes I just want, to disappear."
Which leads us to "Nightlife." The need to escape and immerse yourself in something bigger than yourself, to lose yourself in the nightlife and be someone else, if only for a few hours is what this song is about. Stark minimal synth-pop that wouldn't have been out of place on a mid-period Ultravox album, "Nightlife" is a bit of a contradiction, trying to capture the melancholy that exists in the midst of a packed dance floor. "Tonight, tonight, I want to get lost in the nightlife. Tonight, tonight, I want to set myself free. Tonight, tonight, I'm lost in a sea of faces. Tonight, it feels like destiny…"
Which leads us to "Tonight." Throwing off the shackles of all the worries, cares, responsibilities, regrets and taking a page from the exuberance and innocence of new wave we charge into the heart of the city for a night of total abandon. "Take my hand, let's go out tonight, unplug and runaway, the lights of the city are calling to come out and play." Propulsive drums, sleek synths and fuzzed out bass-tones lead the charge in this upbeat song.
Next up is "Dance Again." Unshackled from the word the layers of sampled horns herald a night of complete abandon and freedom. Tightly sequenced bass and synths and boppy beats give way to a night without worries or care. "Drop the beat, move your feet, the time has come to get away. Forgot to smile, for a little while, but now we have a special day."
An interlude occurs with "Analogue Llife (No Words Mix)*", an instrumental of the track that appeared on the Electro Pop album.
"Perfect Day" sums up that time after an amazing night out, and the tranquility and peace that comes shortly after. Simple analog drums and understated synths lead way to a kinetic bass run and an upbeat melody. "A day unlike any day, comes into view, for a moment, a perfect day, just for you. The grass is green, the sun is bright, for a time the world feels right. Once a year, a perfect day for you…"
Prognosis: "Three, two, one… exit dream-state. Containment of Robotika is unlikely. End Program."
For this edition of Robotika, we offered the chance to create a version for the A Different Drum record label and their VIP subscription series. Song with * denote versions exclusive to this version of Robotika. Robotika (Expanded) has 8 tracks exclusive to that release. Only 300 copies were made, with a handful of signed copies available exclusively at our BandCamp store.
Is Robotika a concept album? There was no concept when it started, but three or four songs into it, suddenly a journey seemed to present itself. Self-awareness leads to an understanding of what came before and (hopefully an indication of) what might lie ahead. Do the songs taken as a whole and listened through from start to finish tell a tale and take the listener on a journey? Perhaps. Can each song be taken individually on it's own? Absolutely.
Robotika (VIP Edition) is mastered in HDCD® by Jeffrey Norman at Mockingbird Mastering, Inc., for enhanced audio fidelity. HDCD® encoded discs will play on all CD Players.
Robotika (VIP Edition) is available from:
Robotika (VIP Edition) available now from CD Baby