T-Shirts, Sweatshirts, Tank Tops, Phone Cases, Pillows, Totes and more…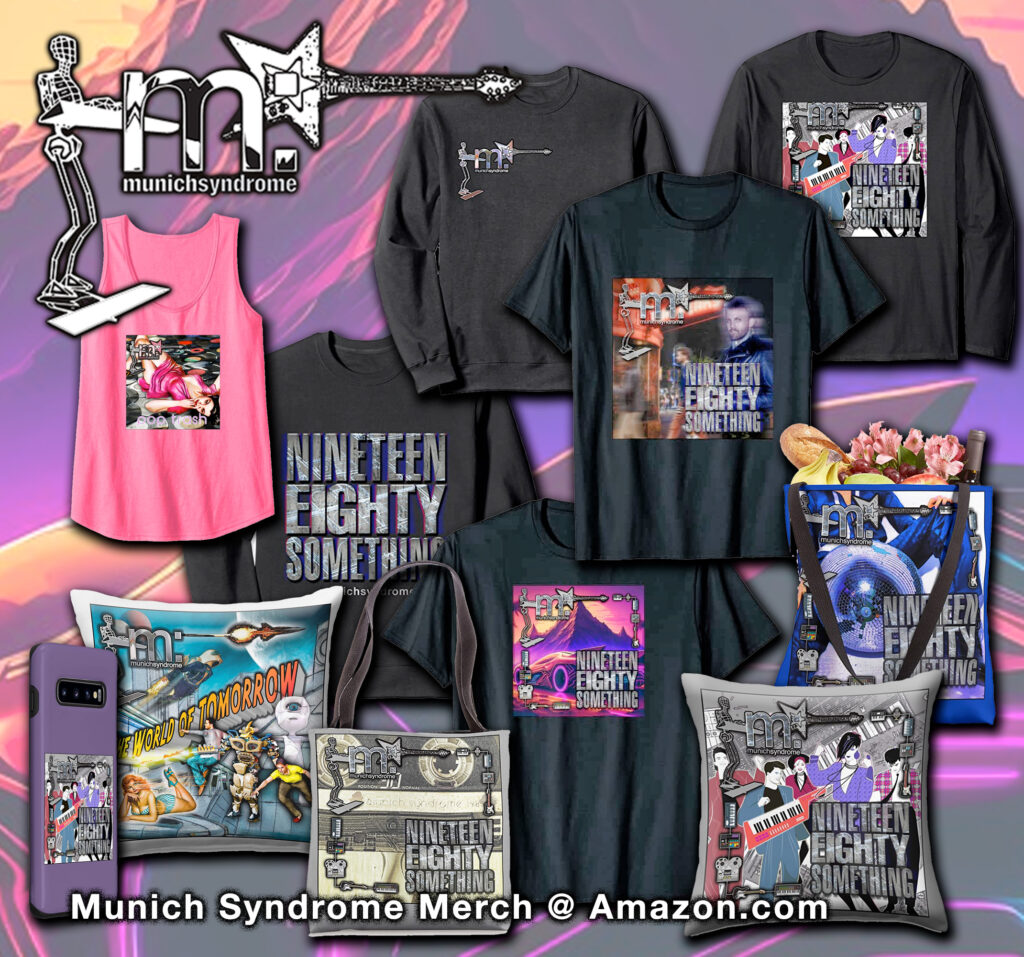 Are you a fan of electrifying beats, catchy melodies, and futuristic soundscapes? Look no further than our online merchandise for Munich Syndrome, fine purveyors of top-drawer electro-pop!
We have everything you need to show off your love for Munich Syndrome's unique brand of music. From t-shirts and hoodies to accessories, our merchandise is designed to make a statement and turn heads. Each item is crafted with the highest quality materials and features eye-catching designs that are sure to get you noticed.

Whether you're hitting the club, attending a concert, or just want to add some style to your everyday wardrobe, our online store has something for everyone. And with fast and reliable shipping, you won't have to wait long to start rocking your new electro-pop gear.
So what are you waiting for? Visit our online store today and join the growing community of fans who are taking Munich Syndrome's electro-pop world by storm!
---
Munich Syndrome
Munich Syndrome is an electronic music project that has gained a lot of attention for its unique sound and style. Some of the most compelling aspects of Munich Syndrome's music are:

Innovative Sound Design: Munich Syndrome's music features intricate sound design that blends various electronic sounds and synthesizers to create a futuristic and immersive atmosphere. The sounds are often complex and layered, with different elements coming in and out of focus to keep the listener engaged.
Catchy Melodies: Despite the complex sound design, Munich Syndrome's music is very melodic and catchy. The melodies are often carried by synths and vocals that are easy to remember and sing along to, creating a sense of familiarity that draws the listener in.
Emotional Depth: Munich Syndrome's music often explores deep emotional themes, such as love, loss, and introspection. The lyrics and vocals are often introspective and reflective, while the music itself creates a sense of mood and atmosphere that captures the emotion of the lyrics.
Genre-bending: Munich Syndrome's music is difficult to categorize into a single genre. It draws on elements of synthpop, new wave, and industrial music, among others, to create a unique sound that defies classification. This genre-bending approach keeps the music fresh and interesting, and makes it appealing to a wide range of listeners.
Unique and Bold Visual Identity: Munich Syndrome's graphics and visuals stand out with their bold use of colors, digital imagery and typography.
These aspects combine to create a unique and compelling listening experience that sets Munich Syndrome apart from other electronic music projects.
---

Any sales or media inquiries please contact us!