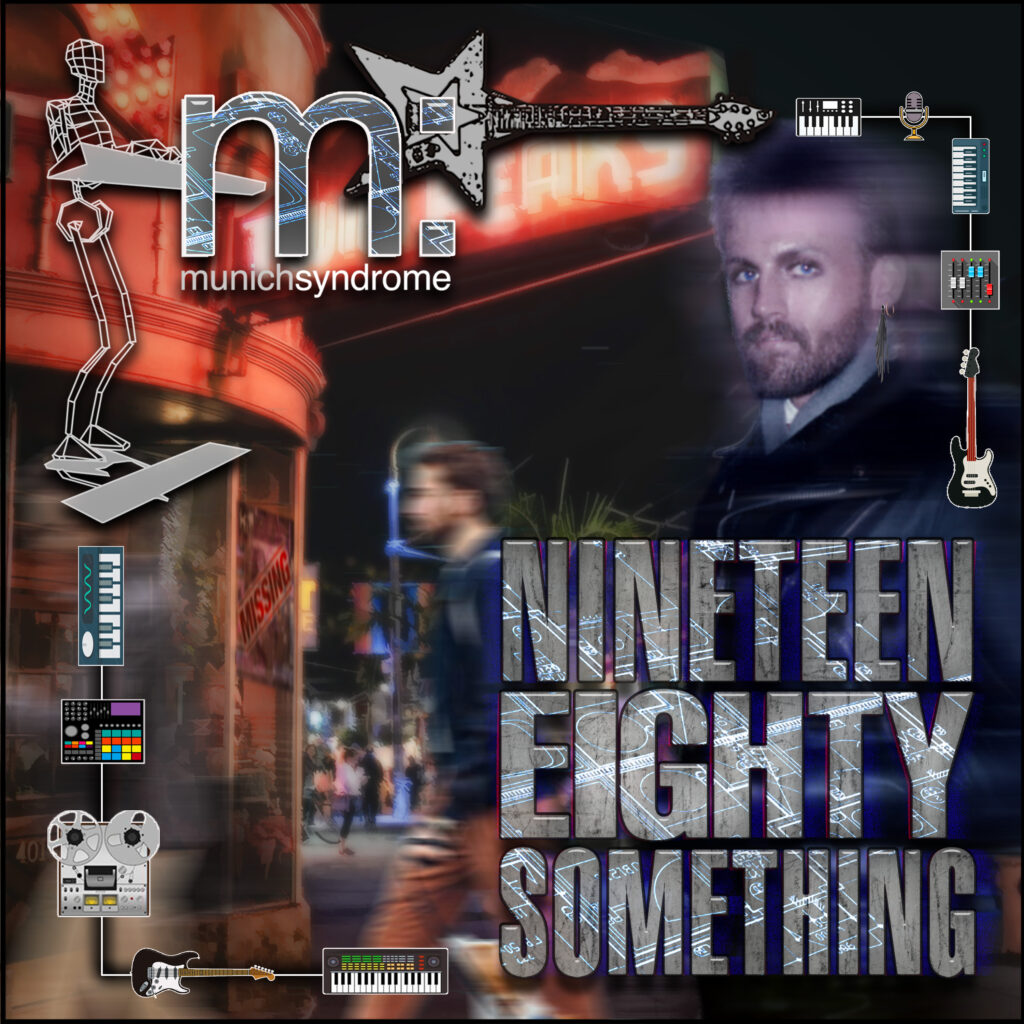 Munich Syndrome's latest album, "Nineteen Eighty Something", is a nostalgic trip back to the 80s synth pop era. The album is characterized by its use of classic synthesizers and drum machines, as well as powerful vocals that deliver lyrics exploring themes of love, loss, and loneliness. The album is a continuation of the band's signature dark and atmospheric sound, with a strong focus on nostalgia and a longing for the past. The songs on "Nineteen Eighty Something" are described as haunting and melancholic, yet danceable, and the album is sure to appeal to fans of 80s synth pop, as well as anyone looking for a fresh take on the genre. Overall, "Nineteen Eighty Something" is a stunning showcase of Munich Syndrome's signature style and a must-listen for fans of atmospheric synth pop and retro-futuristic music.
Written and (mostly) recorded in the 1980's, all of the songs were intended for Munich Syndrome's first album. Studio issues, changing times, and momentum led to the multi-tracks being boxed up. Time was lost waiting for collaborations and contributions that never came through. Through 4 moves and a few decades, the tapes were opened and listened to at the start of the pandemic. Shock and surprise ensued, as many of the songs were completely forgotten, and the others were much further along than remembered. Two years of cleaning up the source tapes, finishing choruses when needed, and adding a bit of studio clarity, the songs are now finally being released as intended. 40 years later, but still…
Featuring hits that should have been, "Missing" is one of the standout tracks that has been streamed and Shazam'd hundreds of times throughout the world. The lead song, "Nineteen Eighty Something" recounts the wonder, heartache, hope and disappointments that the era presented. "2 Whom It May Concern" and "Anywhere But Here" encapsulate the feelings of first loves lost. "Love & Dancing (More Words)", "Forever in a Night", "Disco Lies" and "Thief" will have you on the dance floor. The album closes on the wistful "Endings" and the ambient mix of "Nineteen Eighty Something."
Munich Syndrome was and still is David B. Roundsley!
Available now from ALL MAJOR Digital Services!